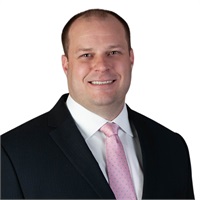 William McClanahan
CFP®
Financial Advisor
Office Location:
6115 Park S Dr
Suite 200
Charlotte, NC 28210
Too many times, good people with financial means fail to set themselves up for a successful future. Typically, the difference between struggling through retirement and enjoying the lifestyle you envision is simply creating a plan and sticking to it.
Do you ever ask yourself questions like:
When can I retire?
Will I have enough to retire?
Which accounts do I take money from when I retire?
How will my retirement distributions be taxed?
Is my portfolio too risky, or not risky enough?
How do I plan for long-term care needs?
Do I have enough insurance?
What is the most tax-efficient way to pass money to my children?
I help my clients create confidence by providing answers to their most pressing questions and establishing a financial plan that takes into consideration their personal goals and the time they plan to continue working.
You will hear a lot of firms talk about creating a comprehensive plan, but Consolidated Planning takes it to an entirely different level. If you are truly creating a plan that encompasses all aspects of your life, it is important to consider auto, home, disability, and life insurance. Couple insurance needs with all investments, including group retirement accounts, brokerage accounts, and distribution planning. At Consolidated Planning, the word "comprehensive" encompasses all financial components of your life.
I am married to a doctor and have a deep desire to help others with some of the more difficult topics they face in life. While I work with a variety of clients, much of my focus is on helping Nurses and Physician Assistants plan for their future. There are several unique circumstances that medical professionals face. Working with an experienced financial advisor that is focused specifically on medical professionals is beneficial.
If the questions listed above resonate with you, it may make sense for the two of us to get acquainted. I invite your LinkedIn connection and hope to provide sound advice in the near future.
Registered Representative & Investment Advisor of Park Avenue Securities.