« Back to Learning Center
Published:
February 23, 2022
Categories: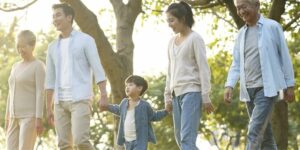 How to Balance Finances as a Sandwich Generation Member
An estimated one in seven middle-aged Americans supports both a child and an aging parent.1 This isn't expected to change any time soon. The circumstances created by the COVID-19 pandemic have added even more households to the "Sandwich Generation." It has also shifted the demographics of this group, making it younger, more diverse and predominantly female.2
If you're not currently a member of the Sandwich Generation, there's a chance you could be soon. By the year 2050, there are predicted to be 84 million people aged 65 and older. Sadly, approximately 70% of them are expected to be unable to care for themselves.3
Having a close relationship with extended family is a privilege that enriches the lives of everyone involved. However, taking on responsibility for a parent can create both emotional and financial stress.
Proactively preparing for the possibility of joining the Sandwich Generation will help you enjoy your time with your aging parents while also balancing your own retirement goals. The following tips will help you get started.
Talk to Your Parents About Finances
You may feel uncomfortable talking to your parents about their finances, but doing so will benefit you both. Begin by letting them know you're coming from a place of love and that you want the best for them.
Once they open up, discuss important questions like how much retirement income they expect and how they plan to address issues like housing and medical expenses. This will help everyone gain a clear understanding of their big-picture plan. Use the Retirement planner tool to have a productive discussion using insights and tips.
Explore Available Resources
If you believe you'll be your parents' primary caregiver in the near future, begin looking into available assistance. Depending on your parents' income, they may be eligible for benefits through your state's Aging Services Division, Medicare and other elder care resources.
Stay on Track with Your Savings
When your finances are spread thin, it's easy to put your savings strategy on the backburner. However, continuing to save is critical for protecting your financial future. Make savings a priority and consider automating your retirement contributions. This will help ensure you don't fall behind.
Create a Spending Strategy
Avoid relying on credit or regularly spending more than you can afford. Work with your family to create a realistic budget and make sure everyone commits to sticking to it. Don't forget to account for your savings strategy and give yourself some wiggle room for unexpected expenses.
Protect Yourself and Your Family
Life insurance is an important part of your financial strategy. Make sure you and your family are covered and your policies are up to date. This will help ensure your family is taken care of if the unthinkable happens.
Begin Preparing Today
Speaking to your parents early-on and maintaining open communication will help avoid unpleasant financial surprises. It will also allow you the time to find out about your assistance options. In the meantime, begin preparing yourself by saving, budgeting and keeping your insurance up to date. Not only will this help reduce stress, but it will also lower the chances that your children will someday become a part of the Sandwich Generation.
Brought to you by The Guardian Network © 2021. The Guardian Life Insurance Company of America®, New York, NY
2021-117084 Exp. 2/2023