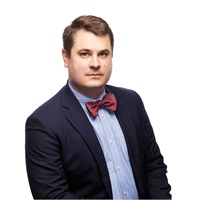 Tim Brockman
CRPS®
Financial Advisor
Office Location:
233 North Main Street
Suite 202
Greenville, SC 29601
Tim is a native of southwest Ohio and graduated from Xavier University in Cincinnati in 2005 with a degree in Political Science. He began his career in financial services immediately upon graduation, initially with a small regional firm before joining Merrill Lynch. While at Merrill Lynch, Tim developed financial plans and investment strategies for one of the largest advisory teams in the firm. In addition, he studied law at Salmon P. Chase Law School in Northern Kentucky during the evenings. His ability to work closely with his clients and their other professional advisors were uniquely shaped by academic endeavors.
In 2013, Tim and his wife, Jamie, moved to Greenville, SC seeking better weather and a thriving community focused on family values to raise their children in. A family of five when they moved to Greenville, the Brockman's added two more children through adoption in 2015. Tim and his wife are active members of their community through their involvement with Fostering Great Ideas, the Osteogenesis Imperfecta Foundation & Christ Church Episcopal in Greenville.
In 2016, Tim joined Consolidated Planning, believing that he had finally found a firm whose values mirrored his own. The combination of his unique background and experience with Consolidated Planning's process and resources allows Tim to provide first class solutions for his client's needs.
Registered Representative & Investment Advisor of Park Avenue Securities, Financial Representative of Guardian
*Financial professionals who hold the CRPC are not permitted to provide services that would qualify the financial professional as an ERISA fiduciary for a qualified plan.