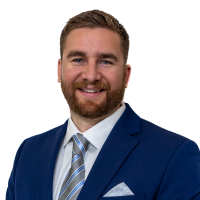 John Ford
Financial Professional
Office Location:
233 N Main St.
Unit 200
Greenville, NC 29601
John Ford is a Financial Professional at Consolidated Planning, dedicated to providing exceptional advice and service with a touch of warmth and integrity. Hailing from Greenville, South Carolina, John has established his professional home in Simpsonville.
John's educational journey led him to Bob Jones University, where he immersed himself in the world of Business. After a successful career as a business owner, John decided it was time for a change, seeking an industry that aligned more closely with his values.
His journey to Consolidated Planning was born out of a desire for a more holistic and client-centered approach. His previous experience had focused heavily on sales and products, an approach he found less enjoyable and less fulfilling.
John's ideal clients are young families and fellow business owners. His mission is clear – to offer excellent advice and service that fosters confidence in his clients' financial lives. His long-term goals include building a business known for its integrity and helping people with their financial matters.
John enjoys outdoor activities and cherishes time spent with his two young children, alongside exploring the beauty of National Parks with his wife. He boasts an impressive record of visiting 24 National Parks, driving across the U.S. 12 times, and experiencing the thrill of skydiving.
Beyond his professional commitments, John is a family man who has been happily married for eight years. He and his wife are the proud parents of two daughters.