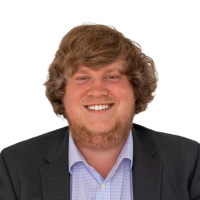 Jacob Caldwell
Financial Advisor
Office Location:
2990 Bethesda Place
Suite 603-D
Winston Salem, NC 27103
Jacob Caldwell is a Financial Advisor based in Winston Salem, NC. His journey into financial planning began after spending 13 years in the corporate finance world, where he handled internal and external financial reporting, cost variance analysis, and profitability assessments. However, he felt a calling to pursue a career that would allow him to make a meaningful impact on people's lives.
With a strong desire to help others, Jacob found his way to Consolidated Planning. He is committed to assisting individuals in traditionally underserved industries, such as Law Enforcement, EMS & Fire, Nursing, and Teachers.
As an advisor, Jacob's primary goal is to educate and empower his clients to make informed financial decisions. He believes in the importance of catering his services to meet the unique needs of each individual, regardless of their financial background. Jacob is particularly passionate about providing guidance to those who may not have traditionally been the focus of financial advisory services.
Outside of his professional endeavors, Jacob enjoys spending time on the golf course, exploring new places, and coaching basketball. He is happily married to his wife, Mary, and they recently welcomed their adorable two-month-old daughter, Ellie, into their lives in June 2023.