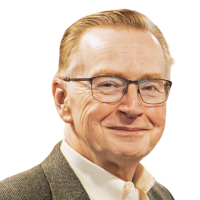 Bill Von Husen
Financial Representative
Office Location:
6115 Park South Drive
Ste 200
Charlotte, NC 28210
William (Bill) von Husen has a deep-rooted passion for guiding families toward financial stability and prosperity. Originally from Brooklyn, New York, he now calls Indian Trail, North Carolina, home, where he is committed to serving his community and helping families build solid financial futures.
Bill earned a B.S. in Economics & Business Administration, with a Minor in German, from Wagner College, Staten Island, New York. He later pursued a B.A. in Biblical Studies from Christian International University in Santa Rosa, Florida.
After college, Bill worked in the reinsurance industry in accounting management for 22 years. However, driven by his passion for helping people improve their lives, he transitioned to church ministry, planting a church in 2001 and subsequently leading his congregation as a senior pastor.
Driven by his desire to continue serving others in a capacity that aligns with his values, Bill transitioned to the financial industry. He is dedicated to fostering long-term, personalized relationships with his clients. He challenges their thinking, guides their decisions, and works alongside them to build a future that aligns with their goals and values.
When he's not immersed in the world of finance, Bill finds joy in spending time with his family, serving in his church, and indulging his passion for good music.
Bill is happily married to his wife, Evelyn, and together, they have three beautiful children and seven wonderful grandchildren.