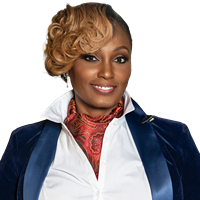 Ashaundá Davis
Financial Representative
Office Location:
3565 Piedmont Road NE
Building 4
Atlanta, GA 30305
Ashaundá's goal is to be and remain at the center of her client's financial lives. Her passion and unique process keep clients committed to dominating their finances, protecting their family, income, assets, and building an investment portfolio where they can grow their net worth.
Upon first entering the industry, Ms. Davis announced her arrival in style, becoming the first African American Woman Advisor to set the record for the highest number of policies written.  Prior to joining Consolidated Planning, she had also been recognized as the longest tenured African American Woman Advisor in a previous North Atlanta office. This simply means she served and continues to serve to meet the needs within her community with education, inspiration, and a high level of service.
She has twelve years of experience in the industry and is located in Atlanta, GA, where she serves clients in over 20 states.  Her practice specializes in serving powerhouse couples, medical professionals, and mogul millennials.
Ms. Davis is also a two (2x) time author of a book series titled, "Wealth Over Riches — 10 Principles to Shift from Looking Rich to Building Wealth Habits." She has spoken about wealth building and financial wellness on esteemed panels and graced the stages hosted by illustrious companies and organizations such as Essence Magazine, Jack & Jill of America, National Black Sales Network, Alpha Kappa Alpha Sorority, Inc., GA Dental Society, and many others.  She has also contributed articles for Martha Stewart's Online Journal, Essence Magazine and Black EOE Journal.
Financial Representative of the Guardian Life Insurance Company of America® (Guardian), New York, NY.  CA Insurance License Number – 4171235.